April 2016 Newsletter
It would seem, in some respects, that a little more caution is entering the recruitment world. Upon saying that it is still a buoyant market place.
In the latest survey released by the REC and Markit they asked Tom Hadley, REC director of Policy for his thoughts.
"Over the last quarter permanent hiring has continued to grow, but the rate eased in March to the slowest since September 2015. While we expect jobs growth to continue overall, we are now seeing the effects of current uncertainty in the marketplace on UK employment.
"Global economic headwinds plus uncertainty around a possible Brexit make it likely that slower growth in permanent hiring will remain lower over the next few months as employers take a wait and see approach.
"In contrast, temporary hiring is on the up as businesses seek to meet increasing demand while retaining the ability to react quickly to any threats that might be around the corner.
"We have also seen a continuing increase in both stating salaries for permanent positions and hourly rates for temporary employment – a trend likely linked to the introduction of the National Living Wage".
Key Points From Survey
Permanent placements growth weakest since last September
Temp billings rise at fastest pace in four months
Vacancy growth eases to 33-month low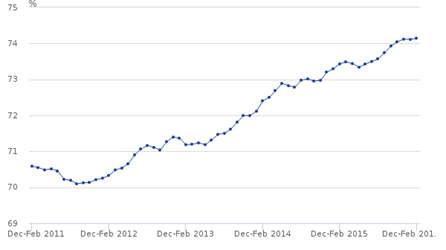 The above chart shows employment figures from December 2010 to February 2016. From February 2015 to February 2016 there has been a 0.5% increase in the employment rate of people aged between 16 and 64
*Figures and graph from the Office of National Statistics website.
DEMAND FOR STAFF BY SECTOR

Permanent Staff
The number of people placed in permanent jobs increased further in during March. That said, the rate of expansion eased to a six-month low. A number of panellists reported that tight candidate availability had restricted growth of permanent staff appointments.
All four monitored English regions saw higher levels of permanent placements. The strongest growth was signalled in the North, while the slowest rate was reported in London.
Demand rose for all nine types of permanent staff in March. The strongest rate of growth was indicated for Executive/Professional workers. The slowest increase was reported for Hotel & Catering employees
Executive/Professional
Accounting/Financial
IT/Computing
Nursing/Medical/Care
Secretarial/Clerical
Engineering
Construction
Blue Collar
Hotel/Catering

Temporary/Contract Staff
Agencies billings from the employment of temporary/contract staff continued to rise in March. The rate of expansion quickened to a four-month high and was marked overall. Rising client activity levels were commonly reported by panellists noting an increase in temp billings.
Growth of temp billings was broad-based across the English regions, with the Midlands posting the sharpest increase.
Broad-based growth of demand for staff was reported in March. The strongest increase was signalled for Nursing/Medical/Care Workers, while the weakest growth was indicated for Engineering employees.
Nursing/Medical/Care
Secretarial/Clerical
Hotel & Catering
Accounting/Financial
Construction
Blue Collar
IT/Computing
Executive/Professional
Engineering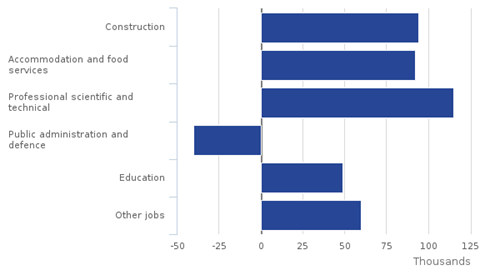 The chart above shows Changes in the number of jobs in the UK between December 2014 and December 2015, seasonally adjusted.
*Figures and graph from the Office of National Statistics website.
SKILLS IN SHORT SUPPLY
Key Permanent Staff Skills

Accountancy/Financial: Accountancy, Audit, Compliance, Credit, Finance, Para-planners, Risk, Security, Treasury
Blue Collar: None recorded
Construction: Estimators, Project Managers, Quantity Surveyors
Engineering: Engineers, Revit, Structural Design
Executive/ Professional: Advertising, Business Development, HR, Marketing, Media
Hotel/Catering: None noted
IT/Computing: Analysts, C++, Cisco, Cyber Security. Developers, Digital Marketing, Embedded Software, Java, Project Managers
Nursing/Medical/Care: Care Workers, Nurses
Secretarial/Clerical: Admin, Receptionists
Other: Customer Service, E-Commerce, Languages, Sales
Key Temp Skills

Accountancy/Financial: Accounts, Audit, Compliance, Credit, Payroll, Risk, Security
Blue Collar: LGV Drivers, Semi-skilled, Warehouse, Welders.
Construction: None recorded
Engineering: Design Engineers, Electrical Engineers, Rail, Revit
Executive/Professional: None recorded
Hotels/Catering: Chefs
IT/Computing: Cyber Security, Developers, Infrastructure, Ruby
Nursing/Medical/Care: Care Workers
Secretarial/Clerical: Receptionists
Other: Call Centre, Customer Service, Languages, Sales, Teachers
Here at Kingston Recruitment, we continue to go from strength to strength with the launch of our new Website expected next month!! Plus we have joined the modern age and now have a twitter account – KingstonRecLtd – please feel free to follow us for latest news, jobs and trends!!
Kingston Recruitment Ltd participate in the national monthly survey sponsored by Markit and the Recruitment Employment Confederation (REC).
Share