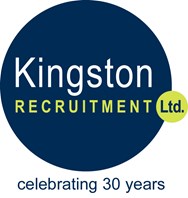 KEY POINTS FROM SURVEY
Slightly weaker rise in permanent Placements …
… but temp billings increase at fastest rate since April
Candidate availability declines at weakest pace for over three years
HAPPY NEW YEAR TO YOU ALL!!
What a fabulous start to the New Year as Hull City of Culture was launched – simply spectacular!!
It looks as if 2017 is going to be a very interesting year in terms of Brexit but for now, we are very pleased to report that the number of vacancies and temporary assignments registered here at Kington Recruitment continue to rise – a strong start to the year!
We continue to work closely with the Recruitment Employment Confederation and IHS Markit to continually explore what is happening month by month within the employment market. Following, are the most recent findings.
Commenting on the latest survey results, REC Chief Executive Kevin Green says:
"The job market continues to beat expectations as we begin the New Year. More people are finding jobs each month and demand for staff is growing. We've seen two months of growth in London, which is particularly encouraging following a difficult period between the EU referendum and October.
"The big question for 2017 is about how employers will fill vacancies. The unemployment rate is at a record low and candidate availability for temporary jobs has been getting worse for the last three and a half years. There is an urgent need for people to fill roles in catering, care and food manufacturing – in these sectors especially, employers rely heavily on workers from the EU."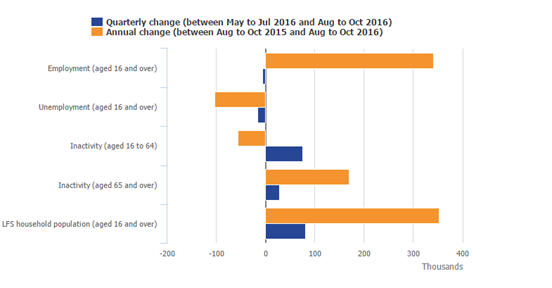 The above graph shows Quarterly and annual changes in the number of people in the UK labour market
DEMAND FOR STAFF BY SECTOR
Permanent Staff
The amount of people placed in permanent jobs roles increased again at the end of 2016. After adjusting for seasonal factors, the rate of expansion remained solid overall, despite easing slightly from November's nine-month peak. Panellists that reported higher placements generally commented on robust client demand. However, some recruitment agencies indicated that a lack of suitable candidates had dampened overall growth.
The Midlands saw the most marked increase in permanent staff placements, while the North also registered a robust rate of growth. Meanwhile, Scotland saw permanent placements decline for the third month in a row.
Demand increased for permanent staff across all job categories bar construction in December. The strongest growth was signalled for IT & Computing workers, followed by Secretarial/Clerical staff. Meanwhile, demand for construction workers was unchanged from the previous month.
IT/Computing
Secretarial/Clerical
Accounting/Financial
Executive/Professional
Blue Collar
Engineering
Hotel/Catering
Nursing/Medical/Care
Construction
Temporary/Contract Staff
Growth of temporary/contract staff billings meanwhile accelerated in December, with the rate of increase the fastest since April. A number of monitored agencies mentioned that stronger-than-expected client demand contributed to the latest upturn in temp billings.
Billings for short-term staff increased across all monitored regions at the end of the year. The North saw the fastest rate of growth, while Scotland saw the first increase in four months.
Growth in demand for short-term staff was strongest in Hotel & Catering during December. Blue Collar and Nursing/Medical/Care also saw sharp increases in demand. However, demand for construction workers fell for the second month in a row.
Hotel & Catering
Blue Collar
Nursing/Medical/Care
Secretarial/Clerical
IT/Computing
Engineering
Accounting/Financial
Executive/Professional
Construction
SKILLS IN SHORT SUPPLY
Key Permanent Staff Skills
Accountancy/Financial: Accounts, Audit, Compliance, Estimators, Risk, Treasury.
Blue Collar: None recorded.
Construction: None recorded.
Engineering: Electronic Engineers, Engineers, Rail, Revit, Technicians,
Technical Sales Engineers.
Executive/ Professional: Legal, Marketing, Scientific.
Hotel/Catering: None recorded.
IT/Computing: CAD Designers, IT Security, DevOps, Digital
Marketing, Java Developers, .Net Developers, Technical Sales, Testers.
Nursing/Medical/Care: Care Workers, Healthcare Assistants, Home
Carers, Nurses, Pharmaceutical.
Secretarial/Clerical: Administrators, Clerical, Reception Staff.
Other: Sales, Telesales
Key Temp Skills
Accountancy/Financial: Audit, Compliance, Risk, Security, Treasury.
Blue Collar: Drivers, Food Processing, Fork Lift Drivers, HGV Drivers,
Warehouse, Welders.
Construction: None recorded.
Engineering: Engineers.
Hotels/Catering: None recorded.
IT/Computing: DevOps. Java Developers, Testers.
Nursing/Medical/Care: Care Assistants, Healthcare Assistants, Home
Carers, Nurses.
Secretarial/Clerical: Administration, Clerical.
Other: Call Centre, Customer Services, Telesales.
Share