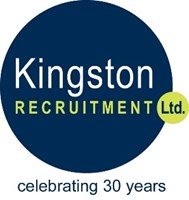 May 2016 Newsletter
We are pleased to report that it has been a very busy time here at Kingston Recruitment, not only on the jobs front but also behind the scenes. We now have a new Website!!  Please feel free to take a look it www.kingstonrecruitment.co.uk.  Also, remember we are now live on Twitter, so if you want to keep up to date with events here at Kingston Recruitment and the world of employment, please follow us on KingstonRecLtd!
Commenting on the latest survey results, REC chief executive Kevin Green says:
"The UK labour market is going through an unsettled patch, with uncertainty around a possible Brexit and the impact of the Living Wage changing employer behaviour with a switch from permanent to temporary hiring.
"Employers are turning to temps and contractors to provide a flexible resource, as a way of heading any possible change to the UK'S relationship with Europe and the implications this would have on the economy.
Key Points from Recent Survey
Permanent placements increase at slowest pace since September 2015
Temp billings growth at 13 month high
National Living Wage drives sharpest rise in temp pay since mid-2007
Demand for Staff by Permanent Sector
The number of people placed in permanent jobs continued to rise in April. That said, the rate of expansion eased to a seven month low and was below the survey's historical average. Some panellists reported greater client uncertainty, in some cases linked to the upcoming EU referendum.
Permanent placements rose across all four monitored English regions, with consultancies based in the North reporting the strongest expansion.
All nine categories of permanent staff saw improvements in demand for their services during April. The strongest growth was signalled for Accounting/Financial workers, while the slowest growth was recorded for Construction employees.
Accounting/Financial
Nursing/Medical/Care
Secretarial/Clerical
Executive/Professional
IT/Computing
Engineering
Hotel/Catering
Blue Collar
Construction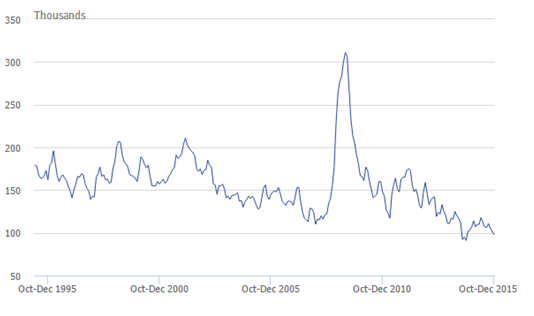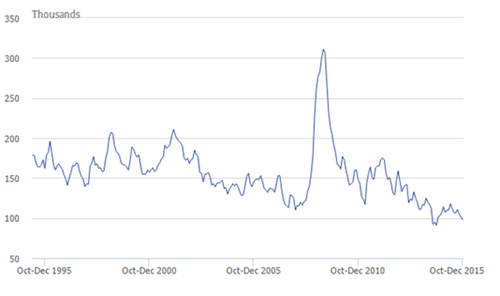 The chart above shows the number of redundancies in the UK, seasonally adjusted from March 1995 to February 2016.
Temporary Contract Staff
Agencies billings from the employment of temporary/contract staff increased further in April. Moreover, the rate of growth accelerated to a 13 month high. Panel members commonly cited rising client activity levels. Some also indicated that the New National Living Wage had boosted the value of their agency billings.
London led a broad based rise in short term appointments during the latest survey period.
Growth of demand was broad based across all nine types of temporary/contract employment during April. The fastest rate of expansion was signalled for Nursing/Medical/Care Staff. IT & Computing workers saw the slowest rise.
Nursing/Medical/Care 
Accounting/Financial
Construction
Secretarial/Clerical
Hotel & Catering
Engineering
Blue Collar
Executive/Professional
IT/Computing
Key Permanent Staff Skills
Accountancy/Financial:  Account, Audit, Compliance, Credit, Finance, Para-planners, Risk, Security, Treasury
Blue Collar:  None recorded
Construction:  None recorded
Engineering:  Design Engineers, Rail, Revit, Structural Design
Executive/ Professional:  None reported
Hotel/Catering: None noted
IT/Computing: Business Analysts, Business Intelligence, Developers, Embedded Software Engineers, .Net, Java, Oracle, Project Managers, SQL Server
Nursing/Medical/Care: Nurses
Secretarial/Clerical:  Office Staff
Other:  Customer Service, Environmental Health Specialists, Languages, Researchers, Sales, Tour Operators
Key Temporary Staff Skills
Accountancy/Financial:  Accounts, Audit, Compliance, Finance, Risk, Security  
Blue Collar:  Electricians, LGV Drivers, Manufacturing, Plumbers, Warehouse.  Construction:  Site Managers   
Engineering: Electrical Engineers, Project Engineers,Revit  
Executive/Professional:  None recorded
Hotels/Catering:  Chefs
IT/Computing: Business Analysts, Business Intelligence, Developers, .Net, SQL Server
Nursing/Medical/Care: Care Workers, Nursery Nurses
Secretarial/Clerical:  Admin, General Office, Legal Secretaries
Other:  Call Centre, Customer Service, Marketing, Support Workers, Telesales
Kingston Recruitment Ltd participate in the national monthly survey sponsored by Markit and the Recruitment Employment Confederation (REC). 

Share