The fifteenth Accountancy Recruitment Salary Survey at Kingston Recruitment has just been released! The information has been collated from permanent vacancies registered over the last 12 months in the Hull, East Yorkshire and North Lincolnshire regions and also provides a comparison to the previous four years.
We believe that it offers an extra service to our clients and provides you with information that can help in both retaining existing staff and recruiting new employees.
2015/16 has seen continued emphasis on recruitment of the lower level roles within an accounts department. Companies held on to staff at the higher end during the recession and cutbacks were made to support roles. The addition of roles such as Purchase Ledger Clerk and Credit Controller in to companies again is a positive sign that manufacturing and service sectors are well and truly over the recession. The biggest increase in both industry and accountancy practice has been with payroll positions. Companies seem to feel negatively about the effects of auto enrollment due to the extra time and resources this is taking up, so are either recruiting extra staff in to that area or more likely outsourcing their payroll to their external Accountant or a payroll bureau service.
The big skills shortage seems to lie within part/fully qualified Accountants to work in practice. This stems mainly from the lack of trainees and apprentices being taken on during the recession and whereas there is clear evidence that companies are investing in their training programmes again, there will continue to be a gap in the availability of candidates coming through post qualification for at least the next year or two.
Here are a few sample graphs from the survey: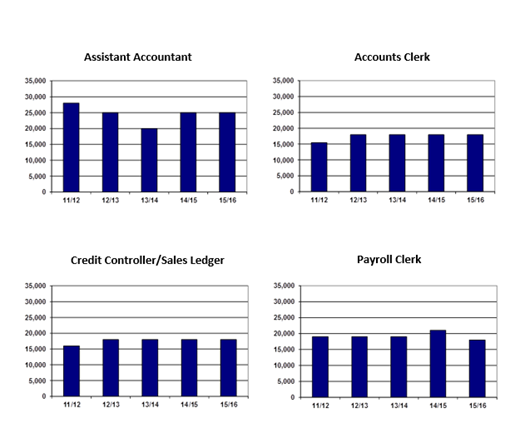 These graphs show the average salaries of a range of 4 different accounting roles.
Share